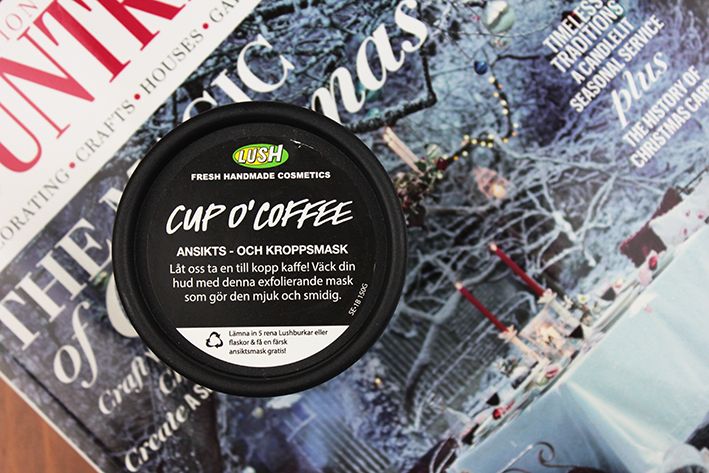 A while back, when I was trying to kill some time while I was waiting for a friend, I visited Lush and this mask caught my eye. The reason it caught my attention was because it contains coffee and smells like coffee, and since I love everything coffee, I couldn't resist purchasing it. Additionally, it can be used on the face and body, but I use it only on my face since it is a bit pricey. Before I review it, just to mention that I have combination skin with T-zone and I love exfoliation (well, my skin does for sure).
Cup O' Coffee comes in a recycled plastic container (and, in case you didn't know, you can collect five of these and take them back to Lush and exchange them for a new fresh face mask). It has a screw-on lid, but for some reason this product does leak a bit despite that. It's quite thick, but it can be applied with both brush and fingers. Lately I've been using a brush to apply it since it's less messy that way. It does have a warming effect in the beginning and I like to leave it for at least 15 minutes on my skin. To take it off, I use mild water and I gently massage my skin so that ground coffee, which this mask contains, can exfoliate my skin while I'm taking it off. Ground coffee is a bit rough so I wouldn't recommend it to anyone with sensitive skin, and I'd definitely recommend to be extra careful when you're removing the product from your face. You don't want to cause any irritation. This product leaves my skin feeling super soft and smooth on touch, and I'd even say that my skin does look really clean. I would even say that my skin feels a bit firmer and tighter, too.
However, as mentioned above, I would not recommend this product to someone who has sensitive skin, as well as to someone who has dry skin because it might leave your skin dry. That's why I use it only once a week and I always apply my skin care products after I take it off. :) All in all, I do like it in general and I will be getting a new one as soon as I go through the one I have.
The only flaw this product has is the price. It's quite expensive considering it can be used all over the body, but as I said in the beginning, I'm using it only on my face and that way, I save some money. I guess it wouldn't last long if I'd use it all over, maybe 3 times, but since I use it only on my face, I can use it at least 10 times, which seems okay to me and worth the money in that case.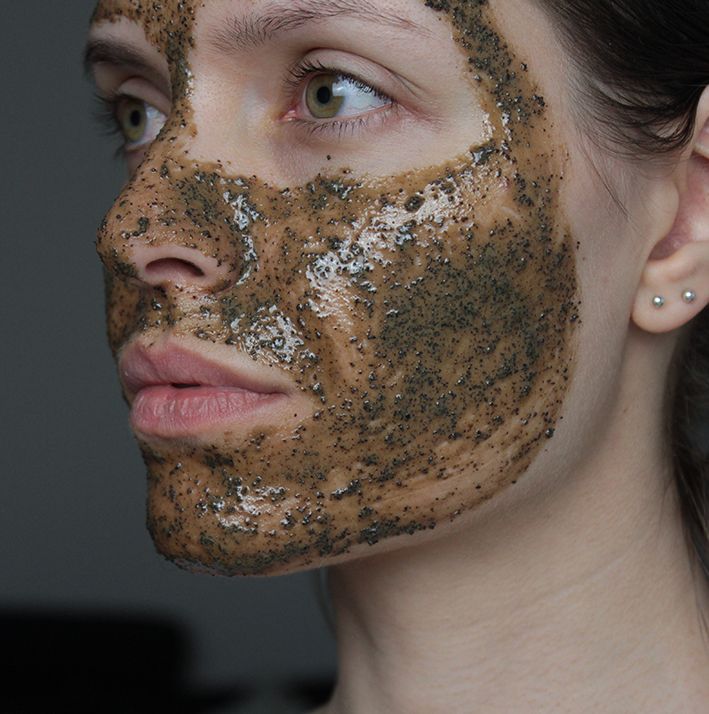 Cup O' Coffee on my skin
Ingredients: Organic Agave Syrup Kaolin Glycerine Coffee Infusion Talc Ground Coffee Bentone gel Perfume Vetivert Oil Vanilla Absolute Roasted Cocoa Extract Coriander Oil Caffeine Powder *Coumarin *Limonene *Linalool 
Suitable for vegans? Yes
Where to buy? Lush stores & online
Price? 99 SEK for 150 g / 195 SEK for 325 g
Have you tried Cup O' Coffee? Or maybe any other face mask from Lush that you'd like to recommend?
Vesna ♥