Hello! Even though I wasn't planning on buying much in April/May, I still ended up with some products and I wanted to share them with you. Some of them I've already tried and I'll write a sentance or two, but I will be posting my first impressions as well. :) So, let's get started!
Maria Nila
Based in Stockholm, Maria Nila offers a variety of hair care products. I've been reading about them a lot and I was so tempted to order something. Since my hair has grown quite a lot, I really wanted to trz some hair styles, but I needed some products first (I don't remember the last time I purchased a hare product which wasn't shampoo or conditioner). I picked three products which I thought might be the best ones to start with: styling spray, dry shampoo and cream heat spray.  I just received them 2 days ago so I still haven't tried them, but I will be testing two of them today. As you can see, they are all vegan (I love how they clearly state on their packaging which products are vegan + most of their range is vegan).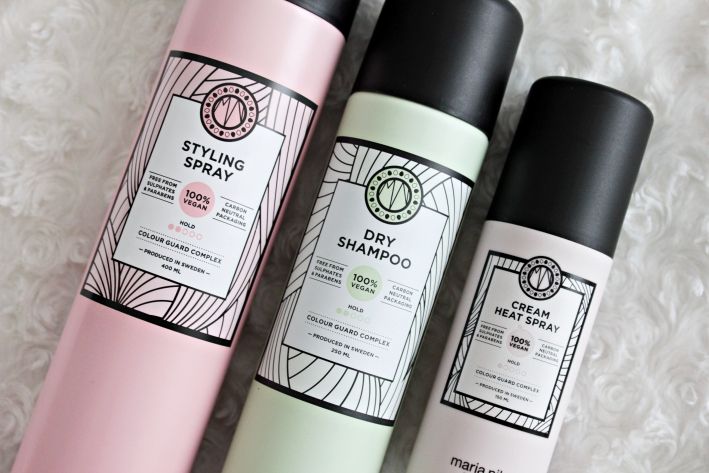 Marc Jacobs Beauty
I'm so happy that another high-end brand decided to be cruelty-free! I picked up two products last week: Lush & Libido blush and Kiss Kiss Bang Bang lipstick. Lush & Libido was on my wish list for quite some time and I finally purchased it! It is such a wonderful colour which really suits my complexion. It might looks too pink in the packaging, but it looks quite mildly and flatters my skin. The other product is the lipstick in shade Kiss Kiss Bang Bang which I didn't plan to buy, but I tried it while I was in Sephora and was just mesmerized by how it looked on me. In addition to that, a friend said it really brings out the colour of my eyes, so that was and easy decision. :D Will be posting my first impressions this weekend!
(Just a reminder that this is a separate brand and has nothing to do with Marc Jacobs Perfumes or the fashion brand. And not sure these products are vegan, I did check the ingredients and it looks like they are vegan, but I have to confirm that first)

Lush & Libido blush

Kiss Kiss Bang Bang lipstick
ACO, estelle & thild, EX1 Cosmetics (all vegan)
I've been searching for a new sunscreen for a while now because I wanted to buy mineral-based sunscreen again, but didn't manage to find what I was looking for. Instead I ended up buying ACO Sun Face Fluid SPF 50 and, to be honest, I'm so glad I did! It's thicker, but it absorbs fairly quickly and leaves this velvet-y feeling on my skin.
Another product I picked up is estelle & thild Eye Make Up Remover (dual-phase) because my eyes are really sensitive lately and I need something really gentle to remove my eye make up. Since I was satisifed with their products so far, I decided to get their make up remover and that was a good choice. It really is gentle and it's fragrance-free. Wished it contained more than 150 ml, but I'll live. :D
For the past few weeks I was searching for a foundation that has pink undertone, but which is for those who are light-medium with olive skin tones (like I am). There aren't many foundations that have this option, and EX1 Cosmetics is actually one of the few. Their shade F100 is the only shade with pink undertones, which is a shame since it's a bit dark for me (I'm light-medium and this is obviously a medium shade). :( It will be a good shade for summer, but I wished they had something slightly lighter since it really is a good foundation. I was testing it over the weekend and I was so, so impressed! I'll try mixing it with something to get a lighter shade, but I'm not sure how good that will be since such products usually change the texture and not just the shade. We'll see.
IsaDora Sculpting Lipstick & Lipliner, shade Rosewood (vegan)
I already own one shade from this range, but I decided to get another one – Rosewood. It's actually quite darker on my lips, much darker than I thought it would be, but it looks really good! The lipliner is waterproof and super dry, but the lipstick is creamy so together they tend to have a good balance and are comfortable on my lips. I took some photos of me wearing it, but the lighting was bad so I'll have to take the photos again, hopefully I'll have some time this weekend for that :)

Four Reasons Take Away Color 3.0 Coffee Bean (vegan)
I really miss my dark brown hair so I picked up this shade from Four Reasons. This isn't a permanent colour so it doesn't last so long, but I like it anyway. The last time I picked a shade lighter, but since I didn't see a significant change, I got a darker shade this time. Will post before/after pictures, will be applying it tomorrow :)
So, these are my new products! I'm already using some of them and will be posting my first impressions in the next few days!
Vesna ♥