Note: I'm 32 years old (time really flies!), with combination skin + dehydration issues during winter, some fine lines, but nothing too "serious" ;)
It's been 7 months since I purchased my first Hylamide products, and I think it was about time I wrote my review. I'll start with the SubQ Anti-Age Advance Serum, but before I get into details, let me just cover some basic information about this brand (though I'm sure you've probably heard it all by now). Deciem, the company behind Hylamide (and a few other brands), made a certain break through a while back since their approach and products are somewhat revolutionary (at least, that's my view). If I had to use one word to describe them, I'd probably use the word simplicity. Additionally, I'd say that when it comes to Hylamide, I would describe it as "what you see is what you get". By the time I'm writing this, I'm already on my second bottle of the SubQ Anti-Age serum, so I guess it's fair to say that I took my time to test it properly ;)
The reason I purchased this product in the first place is because I have combination skin which can be dehydrated during the winter, especially here in Stockholm (it's really windy and winter is quite harsh to put it mildly). Last winter I had a bit of an issue with dehydrated skin, so I figured I'll do something about it for the next one. That's how I came across Hylamide and I decided to give it a try. Long story short, it was a good decision. Of course, I haven't used only this product, but I'm quite sure it did most of the work and my skin is really grateful now that the winter is almost over.
ABOUT THE PRODUCT
SubQ Anti-Age Advance Serum is "a highly active concentrate of advanced hyaluronic complexes, next-generation peptides and biotechnological technologies to target rehydration, while improving the look of lines, wrinkles, sagging skin and textural damage. "
It comes in a blurred pipette dropper glass bottle. The formula of the serum is on the watery side so I have to be a bit careful when I apply it since occasionally it can drip here and there. I apply it after my toner, morning and night, directly onto my skin, a drop on the forehead, cheeks and my chin. It goes on smoothly and I don't wait too long before I move on to my next step.
RESULTS
What have I noticed? For one, no dehydration, even if I skipped using it for a few days on certain occasions (like, when I was sick / didn't feel like doing anything, let alone taking care of my skin. I know, not a great thing to do, but it happens from time to time). Additionally, my skin looks fresher and firm(er). My skin tends to look dull and tired because I do have issues with sleeping, so anything that can help with that is more than welcome. And, last but not least, I seriously see a difference when it comes to some fine lines and nasolabial folds (smile lines). I swear that lines between my eyebrows have improved and my right nasolabial fold is less obvious. You might think I must be exaggerating, but I do have quite visible smile lines. I have big mouth and I laugh/smile a lot! :D I wasn't actually thinking about it before, but I do notice the difference now that I look at them. I purchased this product primarily to deal with dehydration issues, but I see that it does offer much more than that. I mean, they do say it offers more than just hydration, but that wasn't mine concern. Well, if you are concern about fine lines and wrinkles, you might wanna consider buying this serum.
WOULD I RECOMMEND IT?
You bet I would! To anyone who has first signs of aging – some lines and mild wrinkles / you have issues with keeping your skin hydrated / you just want to add an effective and yet affordable serum to your skin care regime. Especially if you're 30+. ;)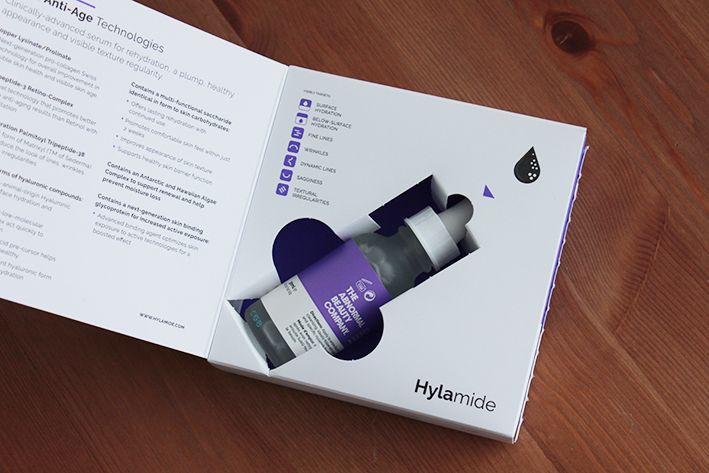 Ingredients: aqua (water), glycerin, hydrolyzed yeast extract, sodium hyaluronate crosspolymer, pentylene glycol, ethoxydiglycol, tamarindus indica seed gum, palmitoyl tripeptide-38, myristoyl nonapeptide-3, copper lysinate/prolinate, methylglucoside phosphate, hydrolyzed sodium hyaluronate, sodium hyaluronate, ahnfeltia concinna extract, saccharide isomerate, polyglucuronic acid, lactobacillus/ eriodictyon californicum ferment extract, pseudoalteromonas ferment extract, phospholipids, lecithin, salicylic acid, hydroxypropyl cyclodextrin, cetyl hydroxyethylcellulose, polyacrylate crosspolymer-6, hexylene glycol, sodium hydroxide, sodium citrate, citric acid, trisodium ethylenediamine disuccinate, leuconostoc/radish root ferment filtrate, potassium sorbate, ethylhexylglycerin, sodium benzoate, caprylyl glycol, phenoxyethanol, chlorphenesin
Suitable for vegans / cruelty free? Yes
Where to buy? here if you are in Sweden (out of stock at the moment) or here
Price? €36 / 340 SEK
Vesna ♥
Save
Save
Save
Save
Save
Save