After two weeks I'm back in Stockholm! I was spending some time with my family and friends back in Croatia and while I was there I purchased some (well, more than some) products, mostly from brands which aren't available in Sweden, like essence and catrice cosmetics. Other products are available in Sweden, but they're more expensive here so… I got them cheaper! :D
On the photo above you can see all the products I got, but I also got a few clothing items and a bag which you can see in the end of my post. Anyway, keep reading to see what I got!
Lush Cosmetics
Since I started buying (only) cruelty free products, I began to explore Lush cosmetics more often and my wish list is getting longer and longer with every click on their website! My last purchase contains four products: Brun and Noir henna, Soak and Float and New Shampoo Bars. First two products are something I'll be using for the first time, I already did my homework, looked at tutorials, read plenty reviews and I'm really looking forward to it! I'll definitely take some photos and show you some before/after pictures. :)
Shampoo bars are something new as well, but I'm not so excited about them as I am about henna. :D Soak and Float shampoo bar is for my husband who has really sensitive scalp and the other one is for my hair. But I'll be trying my husband's bar as well since my scalp tends to get sensitive from time to time, too. :)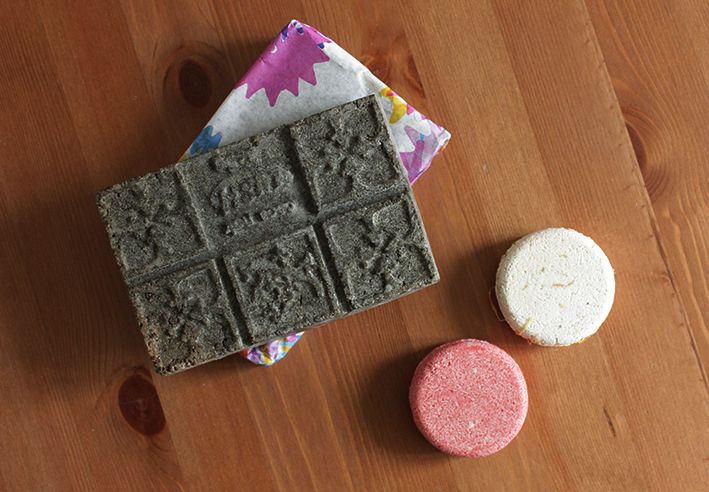 catrice cosmetics
It's really a shame that catrice isn't available in Sweden since they have so many good and affordable drugstore products (and by affordable I mean REALLY affordable, not like some local brands :D). I was considering picking up a few more products, but I was trying to be reasonable (we see how that worked out, LOL). Anyway, I got 2 nail polishes in shades 108 The Very Berry Best and 115 Summer Nights' Sky, Defining Blushes in shades 040 Think Pink and 110 Legend-berry (these were on sale, I think they're going to be discontinued), Softly Touch Shadow in shade Nude NETisfaction (limited edition), Mascara Lashes To Kill and Longlasting Lip Pencil in shade 170 Plumplona Ole.  The Lip Booster was GWP.
The price range for these products is approximately between $3-$5 (if I'm not mistaken) so, indeed affordable. :)
Wet n Wild
This brand is available in Sweden, but the prices are quite higher than those in Croatia, unfortunately. Not to mention that their counter is always so dirty and messy which really turns me off from purchasing anything! :/ I got only three products in Croatia, probably those that everyone raves about: megalast nail polish in 2% milk and megalast lipsticks in Smokin' Hot Pink and Ravin' Raisin. I'll post my swatches this week. :)
Minimal Chic
Minimal Chic is a Croatian based handmade skincare brand made by a good friend of mine and I can't repeat enough how much I love her vision, products and product design! I generally love to support small businesses, whether they make skincare products, makeup, bags, pottery or anything else. ♥
For now I have only a few products (from left): Makeup Remover*, Vitamin C Serum and Hyaluronic Acid Serum.
essence cosmetics
essence and catrice are sister makeup brands and they often have similar products or shades, but catrice is more "serious" while essence is the perfect brand for young(er) folks. I still buy some stuff from time to time, mostly nail products, but I do tend to grab a lip product here and there.
What I got this time: essence studio nail repairing & caring oils, colour & care strengthening nail polishes in shades 01 take a break and 03 happy nails, bloggers' beauty secret nail polish in  shade 04 shine bright, studio nails triple care, nail polishes from the merry berry collection (LE Christmas collection) in shades 03 pink & perfect and 01 I love my golden pumps, nail cuticle remover pen and lipliner in 06 satin mauve.
Rituals, theBalm, alverde, Holyplant
My last beauty related image contains four different brands and products. My favourite from the bunch is probably The Ritual of Sakura Foaming Shower Gel from Rituals! I love this collection and I plan to buy a few more products, the first one my list is the body cream. The rest of the products on the picture are: theBalm Mary-Lou Manizer Highlighter, Alverde Wildrose Sheabutter face mask and Holyplant hand & nail cream.
Okay, done with makeup and skincare so let's get to fashion! I don't really buy clothes that much so I got only a few items. Three of them are clothing items from a Polish brand called Mohito – lovely choice of interesting designs and colors, unfortunately, again not available in Sweden and they don't ship to Sweden either. :( I got a simple sleeveless black blouse with an interesting collar that has some flowers on it (they didn't have a better picture, but I guess you can use a bit of imagination :)), basic grey t-shirt with lovely drawings all over it and a navy-like sweater with some makeup symbols (that's why I purchased it, anyway :D ).
My last item is a bag which I got from a brand called Carpisa and they have a range of bags designed by sisters Penelope and Monica Cruz. Really nice collection, too bad they had only one black bag. :D And I have to mention how I'm delighted that they have plenty faux leather bags since I had some serious trouble finding a bag which isn't made of real leather. :/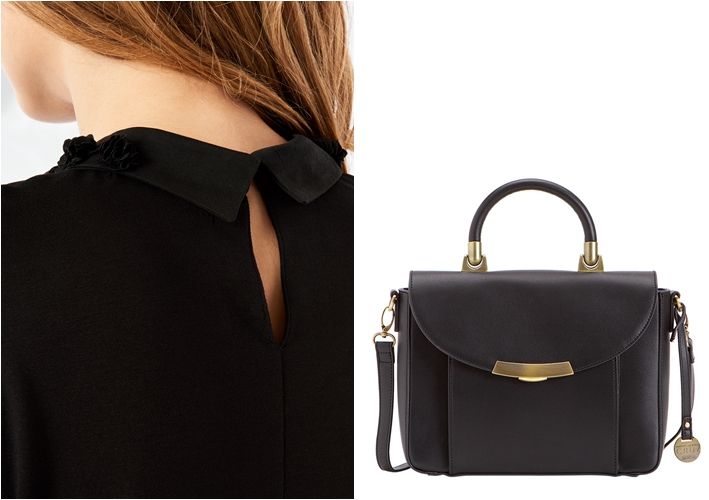 Huh, finally! Done with this post, don't think I'll be posting any long new in posts any time soon! :D
What do you like the most among these products? :)
Vesna ♥