Another month, another new in post! Even though, to be precise, these products are part of my June haul since I purchased these products in June (sale game here in Sweden is really serious, especially after their biggest holiday – Midsummer!). Anyway, I chose to publish them in July since I did get them at the end of the previous month and, hopefully, I won't be buying anything in July so I can consider this as my July haul. ;)
Let me start with my new gadget – Foreo LUNA mini 2! I was really looking forward to it and I hope it will be worth the price and the hype! My experience with purchasing from their website wasn't the best one, but their customer service is really excellent and we solved my issue very quickly!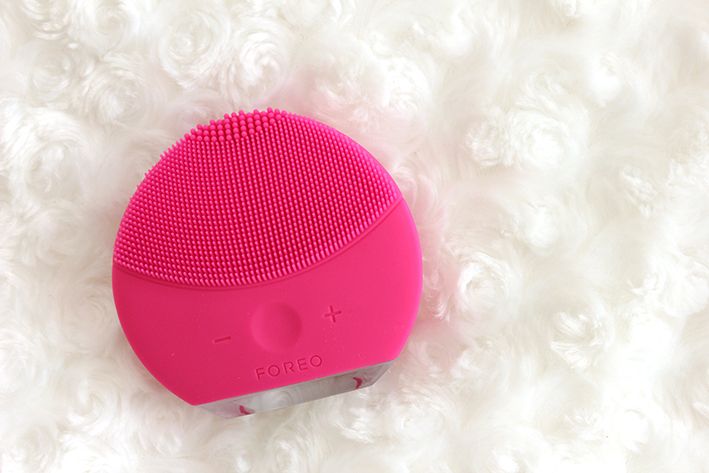 I was debating with myself whether I'll go to The Body Shop or if I'll just skip it altogether, but I ended up checking out what's on sale and I ended up getting these four shower gels! For some reason, I had only one showering product (the one from Ritual's Sakura collection) so it wasn't a bad decision to get these since I had some extra discount so I got these four for the price of one (the regular price)! That was a good deal, I must say! :) I got Papaya, Raspberry, Blueberry and Passion fruit shower gels.
My next product is from Rituals – another Sakura product in my collection! This collection is SO amazing that I keep collecting products from it! I will let you know what I think of this collection next week, just until I test my products a tiny bit longer. :)
I'm not really attracted to Lumene products usually, but I ended up getting three products – Bright Touch Refreshing Cleanser (which I use with my LUNA mini 2), Soft Touch Hydrating Cleanser (I planned to use this one with my LUNA mini 2, but figured too late that I picked the wrong type of product since this one is applied to dry skin and not wet, which is what I was looking for so I went back for the refreshing cleanser and I'll give this one to my friend), Vitamin C Day Cream (I really did need a new day cream so I decided to try this one since a friend of mine tried the one with the SPF in it and said it was a good one; I didn't get the one with the SPF since I have a separate cream for that – mine SPF crema is from John Masters Organic).
Anyway, I've been using these products shortly, but I will give you an update on how they worked out for me. So far, so good. :)
Nail polishes ♥
After a long, long time of checking which shades to get, I finally got some Zoya nail polishes and, to be honest, I got them just because they were on sale. :D Their regular price is really high and this is the first time I caught them on sale and I'm really glad for that! Their regular price is 150 SEK (around 17$) and right now many shades are on sale for (only) 50 SEK (6$).If you're in Sweden (or some other Nordic countries, I think they ship only to this area), you can get them HERE. Shipping for 4 nail polishes was 39 SEK and they arrived two days after I placed my order.
Shades I got are (clockwise): Racquel, Demi (not what I expected, I thought this was a cream shade?), Sam and Miley (on my nails right now! gorgeous!).
And, like Zoya nail polishes weren't enough, Åhlens had some Ciate shades on sale, they were 50% off and I ended with three shades (l-r): fool for tulle, white heat, burlesque. I think I'm done with buying nail polishes for a few months! :D
What did you get recently? Is something from my latest haul on your wish list, maybe? :)
Vesna ♥