Linda Hallberg, a well known Swedish blogger and makeup artist, recently launched her own brand: LH Cosmetics. For now, LH Cosmetics offers only two products: Infinity palette and brushes. I've noticed her brand as soon as it was launched, and I was really interested in trying both the palette and brushes, but I wanted to see the products in person. I got the opportunity for that some two weeks ago, when LH Cosmetics hosted an event in collaboration with Bangerhead Studio. They simply announced the event on Facebook, inviting everyone! Of course, I had to see the products for myself, plus I got to meet Linda personally! On top of that, we spoke in SWEDISH! I was quite nervous, but I survived :D I have to admit she's just as lovely as I've imagined her, and I can only wish her all the best in the future, I don't doubt she'll be even bigger in the makeup world.
Anyway, at first I wanted to buy only the Infinity palette, but since they offered a good discount, I got the brushes (the basic kit) as well.
Infinity palette

The Infinity palette is definitely an interesting product, but not as if I expected anything less from Linda. It comes in a sleek and thinner cardboard packaging, with a mirror on the inside and a plastic sheet protection. It contains eight different shades, four warm (top row) and four cool (bottom row). All shades can be used both dry and wet, on eyes, lips or face! I have to say I'm really surprised with how multi-functional it is, and I think this is probably one of the best palettes when it comes to price vs. what you get.
Each shade contains 3,5 grams of product = 28 grams in total. Nice amount of product, but it figures since you can use it all over the body. Out of eight shades, six of them are vegan (Andromeda and Pinwheel aren't vegan, but they're working on that so I expect this palette to be vegan soon).
All shades are more than well pigmented, and the shade that really got me is the last shade – Fornax – matte black shade. You'd be surprised how difficult it can be to find a proper black matte eyeshadow, but Fornax is just that – amazingly black! You can see all my swatches below!
Regular price: 399 SEK (~ 43$ / €40)
The Basic Kit
This kit contains five makeup brushes – blending brush, angled brush, finishing brush, precision brush, all over brush, and one powder puff. All brushes are made of synthetic hair and they have handmade wooden handles. I will be reviewing these brushes some time in the future.
Regular price: 499 SEK (~ 54$ / €52)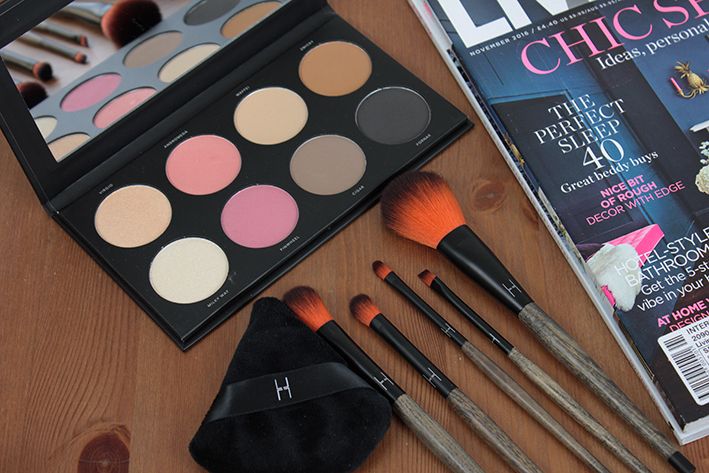 Swatches
All swatches were applied dry, without primer. Pictures were taken in natural daylight (next to a window and indoors)

l-r: Virgio, Andromeda, Maffei, Zwicky (top row) / Milky Way, Pinwheel, Cigar, Fornax (bottom row)

l-r: Virgio, Andromeda, Maffei, Zwicky (top row) / Milky Way, Pinwheel, Cigar, Fornax (bottom row)
Where to buy? LH Cosmetics (worldwide) / Bangerhead.se (Sweden – at the moment they have a good deal: Infinity palette + The Basic Kit for 600 SEK!)
Suitable for vegans: brushes – yes, Infinity palette – no, but they are working on it
How do you like LH Cosmetics? :)
Vesna ♥