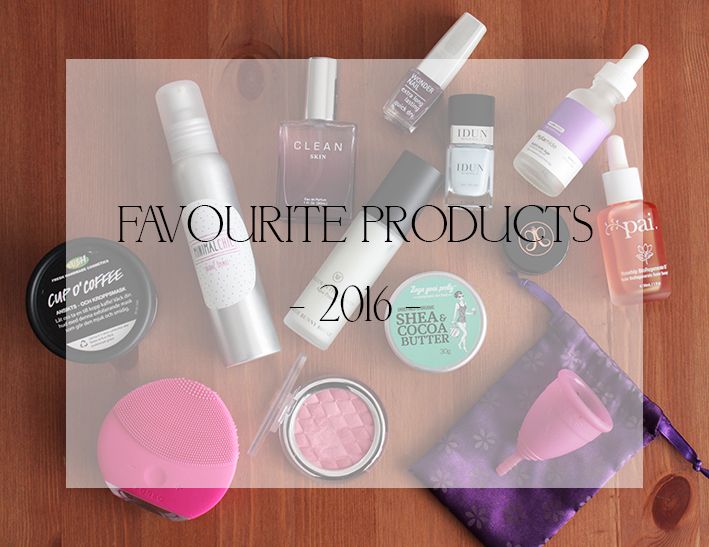 I haven't really shared my favourites during 2016, so here's one post which covers the whole year.  Even if I wrote a few separate posts, I don't think my favourites would be any different since I wasn't using that many products and I was mostly sticking to products which I already liked OR which I purchased after I read good reviews and I figured I would like them.
As you can see, most of these products are actually skincare products, and that's nothing strange because I was quite focused on skincare in 2016. I discovered some really good brands and I'm looking forward to exploring the rest of their range (as soon as I need a new products, that is; my 'buy less' decision from previous post covers skincare, too).
Well, let me tell you more about my favourites and why just these products stood out for me :)
MAKEUP
IsaDora Wonder Nail Quick Dry Nail Polish, shade 540 Purple Paisley (5 ml / 79 SEK / €8.25) – this shade was part of their fall collection and I grabbed it as soon as I saw it in store. I know there are many purple(ish) shades out there, but I really liked this one, and not only that the shade is pretty, but it is more than great when it comes to quality. I generally like IsaDora's nail polishes, so this one is no exception. It comes with a wide brush which might be a bit tricky for narrow nail plates, but I have wider nail plates so it suits me quite well (I did need a bit of time to get used to it, but now I can't imagine using any other nail brush!). Anyway, this shade is perfect for all seasons if you ask me, but I do prefer it during fall / winter times. Here's my NOTD post with this shade – link.
Idun Minerals Akvamarin Nail Polish (11 ml / 89 SEK / €9.30) – I haven't posted it on the blog, but I did show you on my Instagram how this shade looks on my nails – link – and I still love it as the first day! It's the most perfect winter shade that is out there and I love how it screams cold and winter.  It has to be applied with 2 coats, because the first coat is streaky, but I still like it and use it at least once a week! Idun nail polishes have wide brush, too. Love!
Anastasia Beverly Hills Dipbrow Pomade, shade Ash Brown* (4 g / 255 SEK / €26) – even though I purchased this product not so long ago (after months of debating with myself weather I should purchase it or not, LOL!), I have to say this is one of my favourite purchases last year! It's so worth every cent and I regret not buying it a long, long time ago. I dare to say that my brows have never looked better! It goes on so smoothly, it can be applied lightly or heavily, depending on how you like it, and once you apply it – it stays there. I will be reviewing it next week, just need to take some before / after photos. Until then, you can see HERE how it looks on my brows.
Catrice Illuminating Blush, shade Kiss Me Ken, limited edition (4,5 g / 35 SEK / €3.60) – last year I couldn't get enough of this blush! I tried using other cheek products, but I kept reaching for this one. It's a shame this is no longer available since it is a limited edition product, and I'm sure there is something similar out there, but I still think this product is such a steal considering the quality you get for such a tiny price. Again, you can see it in the same post as the ABH Dipbrow Pomade – HERE – but this was taken in the evening, and I did apply my make up many hours earlier. ;)
Rouge Bunny Rouge Aqua Primer* (30 ml / 500 SEK / €53) – I've mentioned this product more than once so I won't be repeating myself once again, but you're more than welcome to read my review – link – where I tell you all you need to know about this primer.
SKINCARE
LUSH Cup O' Coffee Face Mask* (150 g / 99 SEK / €10.30) – not sure when exactly I got this mask, but I think somewhere in October, and since then it has been something I'm using on a weekly basis. I may not be a true coffee lover, but I love the smell of it and I think I could walk around smelling like coffee! I love how this is a 2in1 product – scrub and mask for your face and body, but I do think it's a bit pricey to be used on the body, so I've been saving it for my face exclusively. Not that I don't mind that since my face loves it! I have combination skin, so this mask really suits my skin since it cleans it and scrubs well, and it is in no way harsh for it. But it might be a bit too much for someone with dry skin. Even though the effect of using it is only temporary, I do like using it regularly since I do like the feeling of fresh skin.
Minimal Chic Oil-based Make Up Remover** – this lovely oil-based make up remover is my must have when it comes to removing my make up in a gentle, but effective way. It is safe to use around eyes and I love using it to remove my mascara since a gentle massage is all it takes to melt all eye make up. Not to mention that, in the end, I don't have any oily leftover trace once I wash it off with warm water. All in all, it is affordable and it basically lasts forever! Another thing that I really love about this product is that it's handmade by a dear friend of mine, and I got this bottle as a gift from her. She has some other lovely products and you can check her range HERE. It's Croatian based brand, but it can be shipped to other countries. :)
Zoya Goes Pretty Shea & Cocoa Butter* (30 g / 80 SEK / 8.50) – even though this is a multi-use product for face & body, I use it mostly to nourish my lips when I'm at home. I love the combination of shea and cocoa, it smells so delicious and it makes me wanna eat it!  This is a quite easy and effective way to take care of my occasionally dry lips, and when I say 'effective', what I mean is – I see results a few minutes after I apply it! No more dry lips thanks to it! At least if I use it regularly (which I try to do).
Hylamide SubQ Anti-Age Advanced Serum* (30 ml / 350 SEK / €36) – I got this serum in the beginning of September and I've been using it ever since which means I owe you a more detailed review (soon), but let me just tell you how much I love this serum! I love the texture, which is easy to work with and which absorbs quite quickly, but not to mention it does why I purchased it in the first place – it rehydrates my skin amazingly! I literally feel the effect the moment I apply it – my skin feels so supple, fresh and satisfied. The biggest difference is – my skin doesn't feel like it's suffering during winter time in Stockholm. I still have 1/3 of it left (I'm in no way sparing, that's for sure!) and I am getting a new bottle as soon as I get to the last drop of my current one.
Pai Rosehip BioRegenerate Oil* (30 ml / 247 SEK / £22.00) – in the end of November, I wrote a mini-review where I shared my first impressions about this product, and obviously, I haven't changed my opinion since this product made it to my favourites! If you're struggling with some scars and skin firmness (or, the lack of it), I would honestly recommend you get this oil, like, yesterday! I raved so much about it to a friend of mine, that she ended up buying it in the end, and today she told me how she's beyond thrilled with it!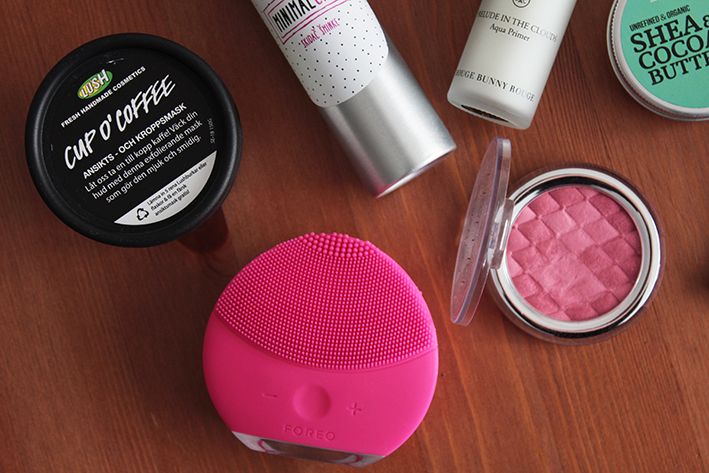 VARIOUS
Lunette Menstrual Cup* (299 SEK / €31) – some 10 days ago I wrote a detailed review about my Lunette menstrual cup, why I love it and can't imagine my life without it, but also why you should get it, too. To make the long story short: this tiny cup changed my life in ways I couldn't even imagine it would happen. I know it might sound silly, but after 20 years of having periods, I can finally say that I am looking forward to them, and I'm not cringing at the thought of walking around while I have a period. My life got so much easier and I don't even waste my time thinking about my periods any more. If you've been considering buying a menstrual cup, be sure to read my review!
Foreo Luna Mini 2 (1295 SEK / €135) – even though skincare products are my top priority when it comes to taking care of my face, I found this face brush to be more than useful when it comes to effective cleansing. The fact is, no matter how much I try, I have the feeling like my skin is much cleaner when I use Luna Mini 2. Of course, It isn't a must have products, to be honest, especially if you're expecting new skin and few years less on your face, but I'd say it has been more than useful as part of my skincare regime. My pores are less clogged when I use it, especially those around my chin area because that area is the worst on my face. On top of that, I love the additional level of clean skin. I mean, it is clean either way, but with this brush it does feel like that feeling is stretched a bit further.
Clean Skin EdP* (30 ml / 470 SEK / €50) – I can sum up description of this perfume in one single sentence: my skin but better. It is so subtle, yet so captivating. It completely mesmerizes my senses and the things that cross through my mind when I smell it are – warmth, the touch of skin, sensual. It might not be strong and it might not last for two days, but I love it just the way it is. To be honest, this is the only perfume I need in my collection. ♥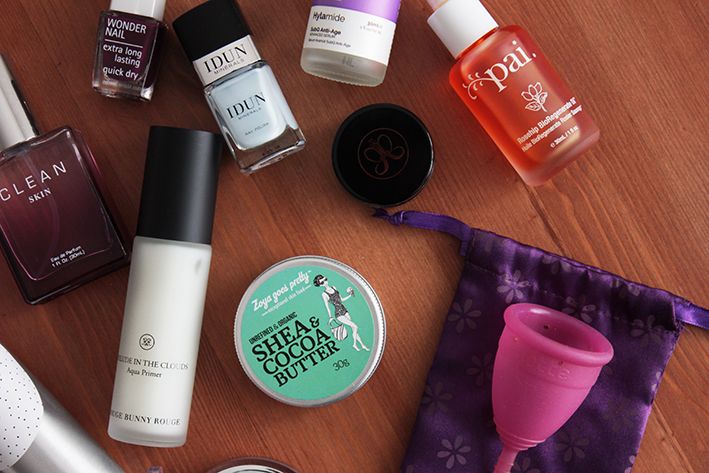 These were my favourite products. Maybe we share some of them? Or do you have a completely different list? Feel free to share in the comments, would love to know what you've been using!
Note: all products are cruelty free, those marked with * are vegan (not sure about those unmarked, so I just marked the ones I know for sure are vegan)
** this product was given to me for review
Vesna ♥