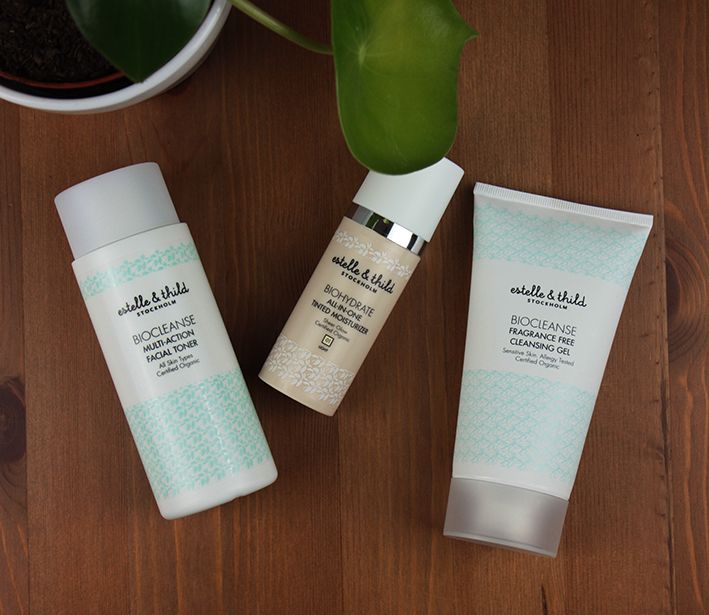 Three weeks ago I picked up a few products from estelle & thild, a Swedish brand based in Stockholm. I've read some good reviews about their products and since I was running low on my toner and cleansing gel, I decided to give their products a go. Along with these two, I grabbed their tinted moisturizer, too (I got it instead of a new liquid foundation, and since I don't like liquid foundations either way, this product seemed like a better option). As I mentioned at the beginning, I got these products three weeks ago which means I've used them for some time now, and here are my first impressions.
BIOCLEANSE Fragrance Free Cleansing Gel (150 ml / 189 SEK / €20 / 20 USD) – estelle & thild has two cleansing gels, and I chose this one because it's fragrance free (I got really sensitive for the past few months and I try to buy products that have mild scent or, if possible, no scent at all). This product has a funny jelly formula and I have to be careful when I'm squeezing it out, because it is a bit watery/thinner, and I have to be careful not to end up with too much product. This gel isn't just for washing the face, but it also removes make up. I have been satisfied with both options, even though I don't use many layers of make up / mascara / eye shadows so I don't know how it works with heavier make up. However, it does remove my daily make up which consists of tinted moisturizer, mascara, blush and brows.  All in all, I do like how it works, I feel like my skin is really clean after each use, but I'm not sure if I would recommend it to someone with really dry skin. I do have the feeling like my skin does feel a bit drier after I use it, but I do have a good skin care regime so that doesn't really bother me since I apply my products right after I washed my face.
Ingredients: aqua, aloe barbadensis leaf juice*, glycerin, cocamidopropyl betaine, xanthan gum, gluconolactone, sambucus nigra flower extract*, glyceryl caprylate, sodium gluconate, citric acid, sodium benzoate, potassium sorbate.* Ingredient from Organic Farming
BIOCLEANSE Multi Action Facial Toner (150 ml / 189 SEK / €20 / 20 USD) –  before getting this product, I was using another toner from Paula's Choice, but I decided not to re-purchase it since I wasn't really impressed. I mean, it was okay, but nothing special. I just figured I could get something a bit cheaper, with the same effect. For now, it seems like I found a good product – I feel like my skin likes it, it feels hydrated and refreshed after each use, and it works well with the rest of my skin care regime. All in all, haven't noticed any negative changes. Another reason, why I got it is that it has an alcohol-free. However, it isn't fragrance free so that might not be a good option if you're after fragrance free skin care. It has a mild plant-based scent which disappears soon after application.
Ingredients: Aqua, Aloe Barbadensis Leaf Juice*, Glycerin, Sambucus Nigra Flower Extract*, Gluconolactone, Polyglyceryl-4 Caprate, Parfum, Limonene, Sodium Gluconate, Citric Acid, Potassium Sorbate, Sodium Benzoate
BIOHYDRATE All In One Tinted Moisturizer Light (50 ml / 299 SEK / €31 / 33 USD) –  instead of buying a new foundation or a CC cream, I decided to go with this tinted moisturizer, but I do think I will be getting a foundation as well or something with SPF since this product doesn't contain any SPF. The lack of SPF is the only thing I don't like about this product and that might be a deal breaker for many (especially today when we all know how important SPF is). But, if I put that aside and if I had to describe this product in one sentence, I would probably describe it as 'my skin but better'. I really love how it looks on my skin, how light it feels and how easy it is to work with. This is how estelle & thild describes it: "The custom all-in-one formula provides natural coverage, hydrates the skin and infuses it with radiance." I completely agree. However, if you look for something that has SPF and offers medium coverage, you might want to look elsewhere since this product is really light in coverage. It looks completely natural and it does give this lovely healthy shine to the skin. Additionally, even though it says it's for all skin types, I wouldn't recommend it to someone with oily skin. It's not fragrance free, but its scent is really mild. It comes in two shades: light and medium. My shade is light.
Ingredients: aqua, titanium dioxide, aloe barbadensis leaf juice*, rosa damascena flower water*, glycerin**, prunus armeniaca kernel oil*, coco-caprylate/caprate, simmondsia chinensis seed oil*, butyrospermum parkii butter*, glyceryl stearate citrate, lecithin*, gluconolactone, sodium hyaluronate, glyceryl caprylate, tocopherol, cetearyl olivate, sclerotium gum, xanthan gum, sorbitan olivate, parfum, limonene, linalool, sodium gluconate, sodium benzoate, potassium sorbate, sorbic acid, CI 77491,CI 77492, CI 77499.
Suitable for vegans? Yes, all three products are vegan
Where to buy? estelle & thild or naturisimo (both ship worldwide); if you're in Sweden then you can get their product at Åhléns, KICKS, etc.
Vesna ♥